Velvetiser FAQs | Velvetiser Questions
Velvetiser Reviews
"For chocolate lovers - you need this. The Velvetiser is an at home barista style hot chocolate maker." – Evening Standard
"Up your game and make choc like a pro this winter." – Fabulous
"It made me smile, it made me dance, it made me velvetise." – Guardian
"Tell you what, this hot chocolate is absolutely gorgeous. It's like a chocolate mousse in liquid form. it's delicious. that's really good!" – The Gadget Show
"Forget naff hot chocolate, this gadget will deliver café-quality hot chocolate at home with zero fuss and zero mess every time." – GQ
"Choc Heaven… If the perfect plant-based hot chocolate is evading you, say hello to 'The Velvetiser'." – Veggie
"Give the gift of barista-grade hot chocolate this festive season. From chocolate extraordinaire Hotel Chocolat, engineered by Dualit, this chic device produces velvetised hot chocolate at the touch of a button." – Evening Standard Online
"Enjoy mugs of rich, velvety-smooth drinking chocolate with The Velvetiser kitchen-top system. Sprinkle in a sachet of chocolate flakes and switch on for barista-style hot choc at home." – Metro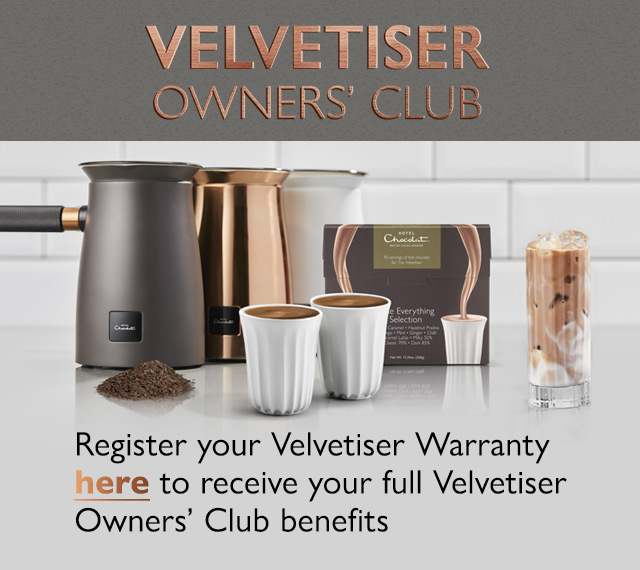 Top Questions
1.
How is using this machine different to making instant hot chocolate, coffee, or milkshakes?
Instant drinking chocolate is mostly sugar (or chemical-laden sugar substitutes) with very little cacao powder – we're all familiar with the lumpy, artificial-tasting results. But all drinks created for the Velvetiser use only pure grated chocolate or cacao butter, with a deep, not-too-sweet flavour profile. The texture of your finished drink is paramount: not too thick, not watery, but luxuriously silky-smooth – 'velvetised'. Once you've velvetised, there's no going back.
2.
How do you make a barista-grade drink with a machine like this?
Effortlessly....
First, give the coil on the whisk a little spin to make sure it is free moving.
Place this in the Velvetiser (always before anything else).
Add your chosen milk and pour the contents of your Hotel Chocolat hot chocolate or latte single serve on top.
Close the lid, press the button and the perfect drink will be ready in just 2.5 minutes.
**The temperature will reach a maximum of 70°C
Fancy a perfect chilled drinking chocolate or latte? It's easy.
In the Velvetiser, add your single-serve flakes to 110ml milk (the milk should just cover the whisk).
Pour 100ml of milk over 6 – 8 ice cubes in a tall glass. Leave to chill.
When your chocolate or latte is velvetised, pour it over the chilled milk and watch it mingle.
Enjoy!
3.
What sorts of milk can I use?
These all work:
Dairy – skimmed, semi or full-fat milk
Plant milk – almond, cashew, coconut, hazelnut, rice, soya and oat
Or you can use water – 100% water or 50/50 water/milk mixture, depending on personal flavour preferences.
Experiment away!
4.
How long does it take?
2.5 minutes – to thoroughly melt the hot chocolate or latte ingredients and to whisk into your choice of milk.
5.
Can I grate my own chocolate into The Velvetiser?
No. It is calibrated to work with our graded size and weight of real chocolate flakes – precisely measured for the best taste and texture. Excessively large pieces of chocolate can break your machine by creating 'hot spots' that can burn out the motor.

Similarly powdered hot chocolate should never be used as this can also create the same 'hot spots' that can burn out the motor and can also clog up the whisk and causing this to no longer spin.
6.
Where do I get the Hot Chocolate and Lattes from?
Direct from us at Hotel Chocolat. Innovative new hot chocolate and latte recipes are being launched all the time, including limited edition and seasonal specials. You can even set up a flexible hot chocolate subscription with us to make sure you never run out.
7.
Can I use other cup sizes?
To create the perfect taste and texture, we balanced 220ml (8oz) of liquid with every single-serve – and created the Podcup to be the perfect fit. In our experience this is the ideal serving size, leaving you satisfied but not overly full. Fancy half a cup? Just use half the liquid and half the single-serve pouch.
8.
Can I make chilled drinking chocolate or lattes with the Velvetiser?
Yes, it's easy. Pour 110ml of your chosen milk into your Velvetiser, so it just covers the whisk, and add the contents of your single serve. Pour 100ml of milk over 6 – 8 ice cubes in a tall glass and leave to chill. Once your drinking chocolate or latte is velvetised, pour it over the chilled milk and watch it mingle. Enjoy!
9.
Can I make coffee with the Velvetiser?
You cannot make ordinary coffee, but you can go one better with our velvetised Latte range: the best latte you have never had. That creamy, silken texture – from the first sip to the last – comes from an unlikely source: cacao butter. Only a chocolatier could have thought of it.

Making a barista-grade Latte is as easy as our hot chocolate: pour 220ml (8oz) milk of your choice into your Velvetiser, sprinkle in your single-serve, press the button and let the Velvetiser work its magic in just 2.5 minutes.

To make a delicious Mocha using your favorite hot chocolate, you can just toss a shot of espresso into your freshly made velvetised chocolat for a perfect afternoon pick-me-up.

Salted Caramel, Milky, Classic and Hazelnut all work well. For best results, add the espresso to your cup first before pouring the hot chocolate.
10.
Can I use my Velvetiser to create frothy milk for my coffee?
Although it was not designed for this purpose, it works very well and creates awesome latte milk.
11.
Can I use my Pod Cups in the dishwasher?
We recommend that you give your Pod Cups a wash before the first use. Your Pod Cups are safe to use in a dishwasher.
Troubleshooting
1.
My hot chocolate/latte isn't hot enough for me
A simple tip for a warmer drink is to fill your cup with boiling water and empty it just before pouring in your hot chocolate or latte. The Velvetiser has been calibrated to serve at the best temperature for flavour, which is up to 68 – 70 degrees Centigrade. A few degrees either way is perfectly acceptable, but if your hot chocolate is much hotter, its delicate flavours will be scalded (this is often the reason that hot chocolate served in some coffee shops doesn't taste as good as you'd expect). We worked hard on the design of our Velvetiser to ensure this never happens.
2.
How do I use this hot chocolate machine – plug it in or put it on the stove?
It's electric – the Velvetiser comes with a standard 13A UK plug ready to go.
3.
How do I clean it – is it dishwasher safe?
First remove the Whisk and clean this gently with a small brush to remove all the built-up Cocoa and milk residue. Then gently clean the inside of the Jug with soft cloth with a bit of soapy liquid, then rinse. This is made from food safe Teflon like coating* so is easy to clean gently.

The Lid should be cleaned, and the rubber seal can be removed – this must be thoroughly dry before replacing otherwise, the lid can pop up during the velvetising process.

The Velvetiser Jug itself is not dishwasher safe, due to its electrical nature, do not place in any water. However, the whisk and Lid are…if needed.
*Our coating is free of the chemical PFOA and is of a food grade standard for up to 4000 uses.
4.
How do I return it?
Trust us, you won't want to. We do ask that you call or email us first though on 03444 932323 or Homebarista@hotelchocolat.com, help@hotelchocolat.com as there may be something we can help with, and also to let us know that your Velvetiser is coming back.

Other than that, it's as simple as handing it in at one of our stores and providing the required information or contacting us for the relevant forms to post your Velvetiser back using our Free 48 hour Tracked Returns Service. To be on the safe side, always ask for proof of postage!
5.
Got a technical issue?
Please email or call us at 03444 932323 or Homebarista@hotelchocolat.com as there may be something we can help you with. If necessary, we will then send you a return label and form to use. You can also return your Velvetiser to a Hotel Chocolat store. Depending on why you are returning your Velvetiser, we'll either send you a replacement or issue you with a refund or a Gift Card.
6.
Velvetiser - Dark smudges on whisk
You may notice some dark smudges collecting on the base of your whisk – they're from the ingredients placed within your Velvetiser so don't worry, nothing's wrong!
What are they?
The smudges are a blend of the naturally and commonly occurring content of your chocolat flakes as well as proteins, fats, and sugars from your milk choice that bond and accumulate on the whisk base and are harmless.
Cleaning methods?
You need to clean the whisk thoroughly:
Remove your whisk and run through your usual dishwasher cycle.
Remove the whisk and wash thoroughly in your sink/washing up bowl in hot, clean water with washing up liquid added and rinse thoroughly before placing back inside your Velvetiser.
7.
My Velvetiser won't switch on/switches off after a few seconds.
Your Velvetiser wants to make you the best drink but needs you to follow the instructions in the correct order to ensure this happens. Firstly, always follow the 1-2-3 of putting the whisk in place first, adding the liquid/milk and, finally, the contents of your hot chocolat or latte single serve. This is important to prevent any damage to your whisk and ensure the chocolate melts and mixes for a perfect velvety finish.

If you add the hot chocolate shavings first, you may experience a problem starting your Velvetiser. If you find your Velvetiser still won't switch on, we recommend rinsing the Velvetiser with cool water to reset the thermostat. This ensures it starts every process at the correct temperature.

If you have already made several cups, the thermostat may just need to reset again, and any issues with your power button can be a simple prompt to do so. We've made a quick Velvetiser troubleshooting video to help you and suggest watching this first. If your Velvetiser is still not working, then please do get in touch so that we can help.
8.
The light comes on but the whisk doesn't start turning.
The spinning section of the whisk can get stuck if the cleaning regime is not completely thorough. Simply wash the whisk carefully once more, and this should get it spinning again.

This can also happen if the Velvetiser is left unused for a while and the whisk was not completely dry after the last time it was washed. Repeat as above with another and wash the whisk once more.

The whisk is made of a magnet at the base so sometimes this can become stuck- simply push the round coil part upwards until it is free spinning then it should work.

9.
What happens if I have lost/a damaged component?
Do not worry we have got your covered! Just email or call us at 03444 932323 or Homebarista@hotelchocolat.com and we can help with any part you might need.
Maybe you moved house and left the Whisk behind, maybe the power base got a little too warm in the strength of the sun, or perhaps your beloved pooch used the Lid as a chew toy.
Facts & Figures
1.
How much sugar in each serving?
It varies from 0% to just 6% sugar per cup, depending on the recipe. 'More Cacao, Less Sugar' has always been our mantra at Hotel Chocolat. Cacao is the first ingredient in all our chocolate recipes for a deeper, more satisfying taste.
2.
How many calories are there per serving?
Because we use less sugar, we can use more cocoa; cocoa is full of good (not empty) calories, making it a healthier fuel for your body. Check the overall calories in your serving below.
3.
Can I use a standard milk frother machine with your single-serve hot chocolate or lattes?
Milk frothers are designed to froth rather than whisk/beat, but they will work to a degree. However, the Velvetiser is specifically designed to make the perfect hot chocolate or Latte, so it will always deliver the best result.
4.
How big is the Velvetiser?
23 x 22.5 x 12cm – a little taller than the average kettle.
5.
Can I send the Velvetiser overseas?
The Velvetiser available on hotelchocolat.com is designed for UK voltage only. A US voltage version is available from hotelchocolatusa.com.
6.
What are the wattage and voltage?
420–500W and 220–240V, 50Hz.
7.
How long is the guarantee?
Your full parts and labour guarantee lasts for 1 year from purchase. If you haven't already, please register your Velvetiser so you don't miss out.
Calories per Cup (Kcal/7oz Cup)

100% Honduras*

Milky 60

Salted Caramel

Dark 70

Hazelnut

DAIRY MILK

Half water/ half Skimmed ? milk

218.2

237.5

237.7

237.0

238.5

DAIRY MILK

Skimmed

256.7

276.0

276.2

275.5

277.0

DAIRY MILK

Semi-skimmed

287.5

306.8

307.0

306.3

307.8

DAIRY MILK

Whole Milk

320.5

339.8

340.0

339.3

340.8

PLANT MILK

Coconut

223.7

243.0

243.2

242.5

244.0

PLANT MILK

Half water / half plant milk

225.9

245.2

245.4

244.7

246.2

PLANT MILK

Cashew

241.3

260.6

260.8

260.1

261.6

PLANT MILK

Soya

276.5

295.8

296.0

295.3

296.8

PLANT MILK

Oat

278.7

298.0

298.2

297.5

299.0

PLANT MILK

Almond

302.9

322.2

322.4

321.7

323.2

PLANT MILK

Rice

311.7

331.0

331.2

330.5

332.0

WATER

Just filtered water 

179.7

199.0

199.2

198.5

200.0

Note: Cups are based on 35g chocolate and 220ml liquid (*100% Honduras is based on 30g chocolate portion)