Experiences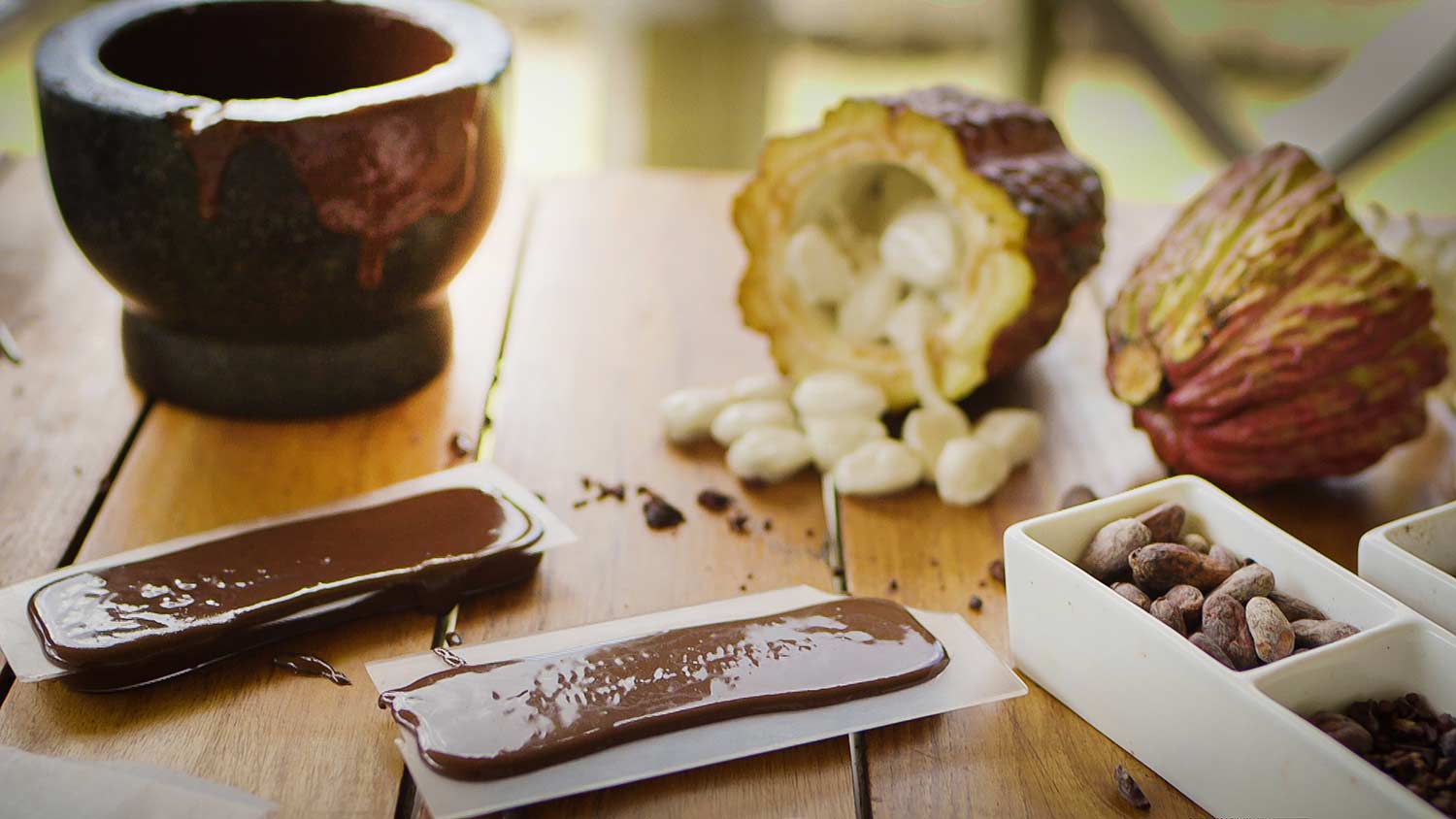 Experiences
You can be as active or as laid back as you wish during your stay with us – it's entirely up to you. From spa pampering and relaxing by the pool, to the unique Tree-to-Bar experience, self-guided strolls through the cacao groves and exciting sea adventures – there's a whole array of experiences waiting for you. These can be pre-booked or booked at the hotel.
The Tree To Bar Experience

Unique to the Rabot Hotel, and drawing on our expertise as a chocolatier and as a grower, this is an exclusive opportunity for you to discover cacao like never before, as well as create your own chocolate. The experience starts with a walk through the estate's cacao groves, selecting ripe cacao pods to harvest from the tree and ends with making your own chocolate bar. The tour includes all the fascinating stages in between – from the cacao seedling nursery, fermenting room and sun-drying station to grinding, mixing and lots of tasting!

Tree to Bean

What is it like to grow and harvest cacao beans? Your Tree to Bean journey starts in our cacao seedling nursery, watch how we graft plants and get hands-on with cultivation. Walk our sun-dappled cacao groves through côte Marcial (growing area within our estate) see how the beans inside cacao pods are transformed as they're fermented and sun dried.

Monday to Friday (excluding holidays)
Time: 9:00am-10:00am Monday, Tuesday and Thursday
Time: 1:00pm-2:00pm Monday, Wednesday and Friday

Bean to Bar

Would you like to create your own chocolate using beans grown on our estate? This journey follows on from Tree to Bean. Try the malty, nutty notes of the cocoa bean, then see it though from de-shelling to conch grinding and recipe creation. Finally mix and pour your own individual chocolate bar, which takes just 30 minutes to set. Learn the essential chocolatier's skill of tempering for a satisfying 'snap'.

Monday to Friday (excluding holidays)
Time: 10.30am-11.30am, Monday, Tuesday and Thursday
Time: 2.30pm to 3.30pm, Monday, Wednesday and Friday

All tours need to be pre-booked. External guests, please call 1 758 459 7966 or 758 724 6183. Internal guests can book on arrival.

We welcome children to our restaurant and our experiences, but we must insist that they are not allowed to run around without parental supervision due to the high elevation, steep inclines and rocks.