Project Chocolat
What is Project Chocolat?
Building on a decade of success, we have transformed our famous Tree to Bar experience across a six-acre site at Rabot Estate in Saint Lucia. Project Chocolat connects ethical cacao-growing with chocolate-lovers in a uniquely immersive agri-tourism experience.

You'll never think about chocolate in the same way again.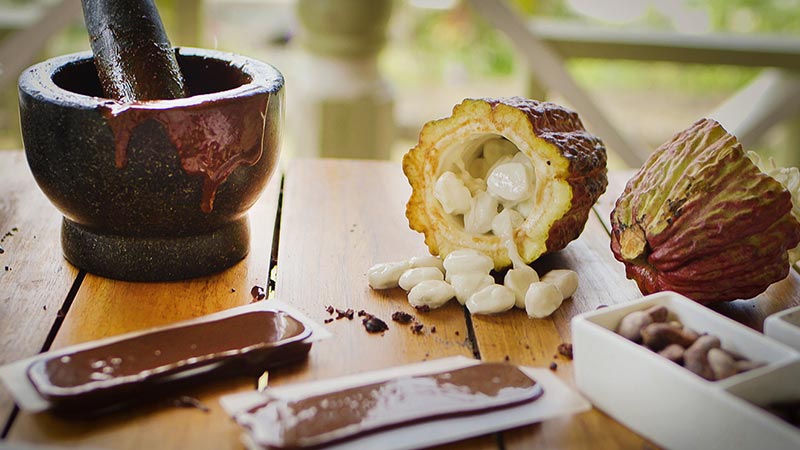 Experiences
Tree to Bar Experience: Embark on an immersive tree to bar experience with one of our expert guides. Head into the rainforest for a tour of the cacao groves and learn about every step of a cacao bean's journey from seedling to chocolate and how to graft a tree before hand-crafting your very own chocolate bar.

Bean to Bar Experience: Our Bean to Bar experience has been created especially for chocolate lovers who would like to gain delicious insider knowledge. Taste cacao pulp from a freshly-cut pod and learn from the experts what it takes to transform roasted cacao beans into your very own chocolate bar.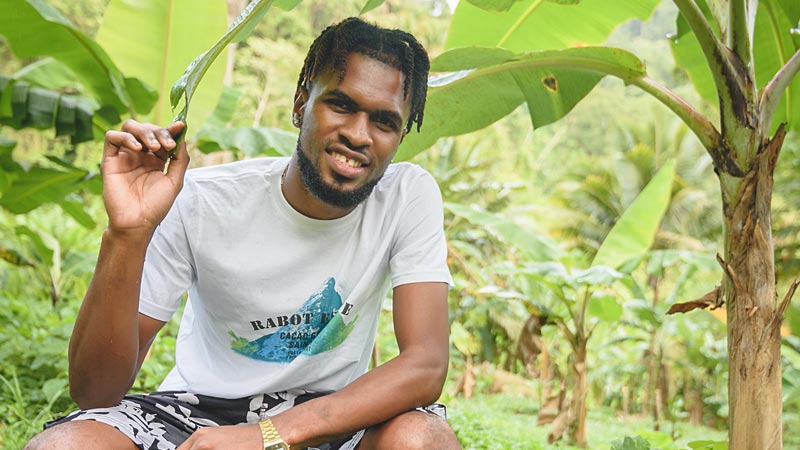 Sustainability
Project Chocolat is a centre of excellence for sustainable farming, working with our local grower partners to encourage sustainable development in Saint Lucia. A certified organic cacao farm, everything that is done is underpinned by respect for nature. The cacao is from heritage trees; we know our genotypes and have helped the most robust and environmentally efficient to flourish. But rather than a harmful monocrop, cacao demands biodiversity to thrive; you'll see coconut, mango, citrus, and other trees as you walk through the rainforest. This in turn encourages fauna from butterflies and other insects to hovering, jewel-like hummingbirds.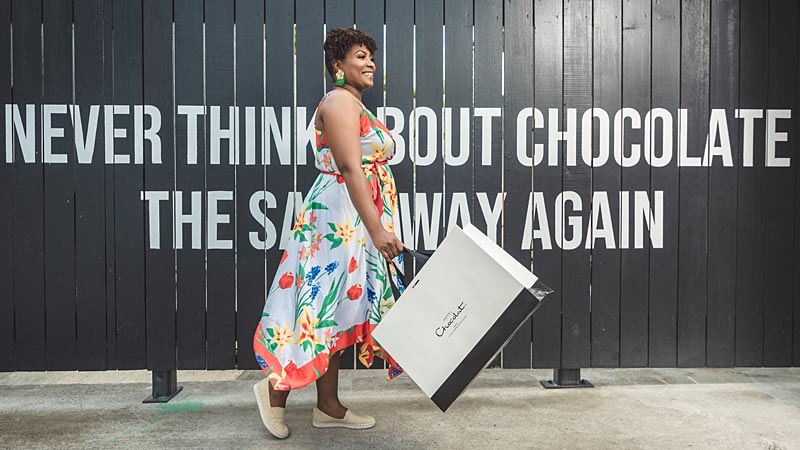 Shop
Pick up Hotel Chocolat's unmissable, award-winning selection of handmade micro-batch chocolate made with rare, ehtical fine-flavour Island Grower cacao and cacao-infused alcohol or beauty products, clothing and bags.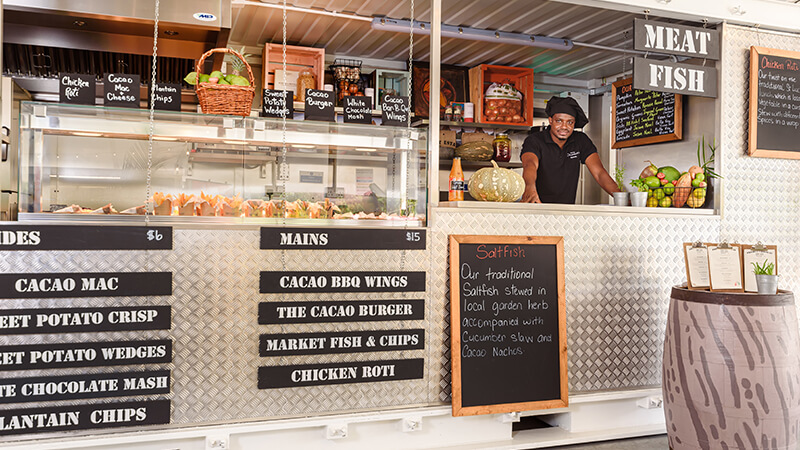 Eat and Drink
Explore new taste experiences with our cacao cuisine inspired by our combined West Indian and British heritage served street-food style - including our famous soft-serve Ice Cream of the Gods or enjoy a refreshing cocktail at The Cacao Bar overlooking a UNESCO World Heritage Site.
Where is Project Chocolat?
Project Chocolat is nestled within the lush Caribbean rainforest, on Saint Lucia's oldest working cacao farm, Rabot Estate in Soufriere.

Guided by our expert team, indulge in a multi-sensory experience in an unparalleled location of natural beauty. Ask us everything you've ever wanted to know about chocolate while you're here - curiosity is encouraged!
About Project Chocolat
Our own agricultural team and the Island Growers we partner with are here on-site, where we draw on our expertise as both cacao grower and chocolatier, marrying the hedonism of luxury chocolate with sustainable cacao farming – by way of our adventurous spirit. Walking through the rainforest on our tree to bar experience you'll see every step of the cacao bean's journey from seedling to chocolate, including tasting cacao pulp cut fresh from the pod. From there, you'll move on to our food and gifting covered-marketplace where inside-out architecture leaves you open to the elements, and explore the full potential of the cacao bean. Taste it in our award-winning, micro-batch chocolate, made fresh on-site by our chocolatiers; as the savoury heart of our cacao cuisine (served street-food style) and infused into our inimitable cacao alcohol. Take home a little more of what you love best, along with other cacao-inspired gifts. But before you go, be sure to discover our newest venture, Rabot Estate Coffee. What grows together, goes together, after all.
Saturday Evenings at Project Chocolat
Watch as day turns to night every Saturday evening at Project Chocolat - with amazing views of the sunset across a UNESCO world heritage site. Party under the stars with cacao cocktails, unique cacao cuisine (served street-food style) and the best local DJs! On the last Saturday of each month, Project Chocolat are proud to present special events with live music from a range of Caribbean artists playing on our Cacao Stage. Tickets sell fast so watch out on our social media channels for updates, or contact hello@projectchocolat.com for more information and tickets. Open hours: from 5pm - 12am Happy Hour: 5pm-7pm See you there!
Upcoming Events
Noël – December 24th, 2022

Bring in the New – December 31st, 2022
For tickets, contact:

Tel: +1758724-6134/731-3067

Email: hello@projectchocolat.com
Visit Project Chocolat...
Email Us Now:
Phone:
Book Online: