Our Story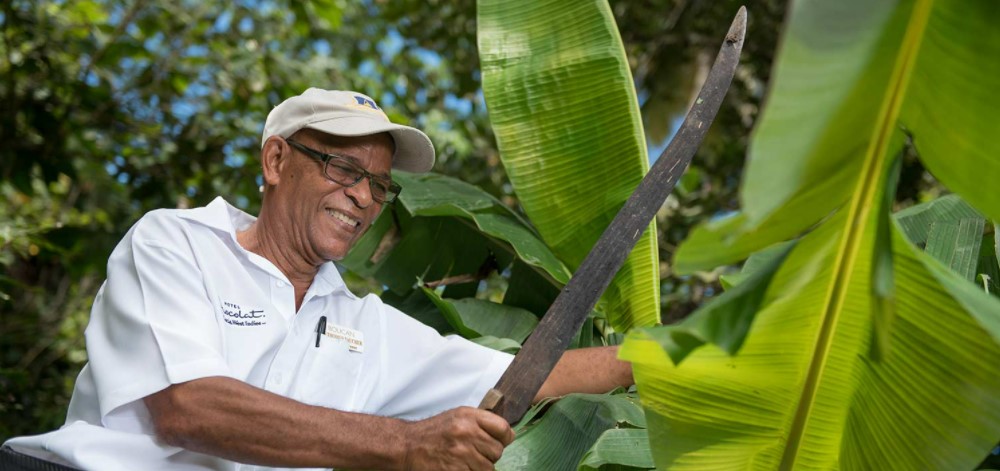 Rabot Hotel, from Hotel Chocolat
We're a luxury British chocolate brand so obsessed with cacao that we bought and restored Rabot Estate, an organic, sustainable 140-acre Caribbean cacao farm on the island of Saint Lucia.
For us, it was simple - to make some of the best chocolate in the world, we had to start at the beginning. We rolled up our sleeves and got stuck in at the roots of the cacao trees on our own estate. We dug deeply, humbly learning the intricacies of growing, fermenting, drying, roasting and conching cacao beans. For the first time, with our support and their know-how, our Saint Lucian farmers grew beans that we created single-origin and single-cote chocolate from, winning highly acclaimed global awards in the process.
We're still one of the world's few chocolate makers to directly grow some of our own cacao on Rabot Estate, but today we work directly with farmers around the world. We've even created our own global ethical cacao growing scheme: Engaged Ethics. Every single cacao bean that we turn into chocolate is part of this scheme, and we wouldn't have it any other way.
Rabot Estate taught us the link between agriculture and the end-product, meaning we're able to cut out the middlemen and forge direct relationships with growers, passing the rewards of the world's love for fine chocolate straight to the farmers who make it possible. A simple link, but one that's sadly widely ignored. For us, being ethical is about doing the right thing, not just saying it - whether it's making life fairer for farmers, learning to grow cacao responsibly, or being straight with people.