Beauté de Cacao Spa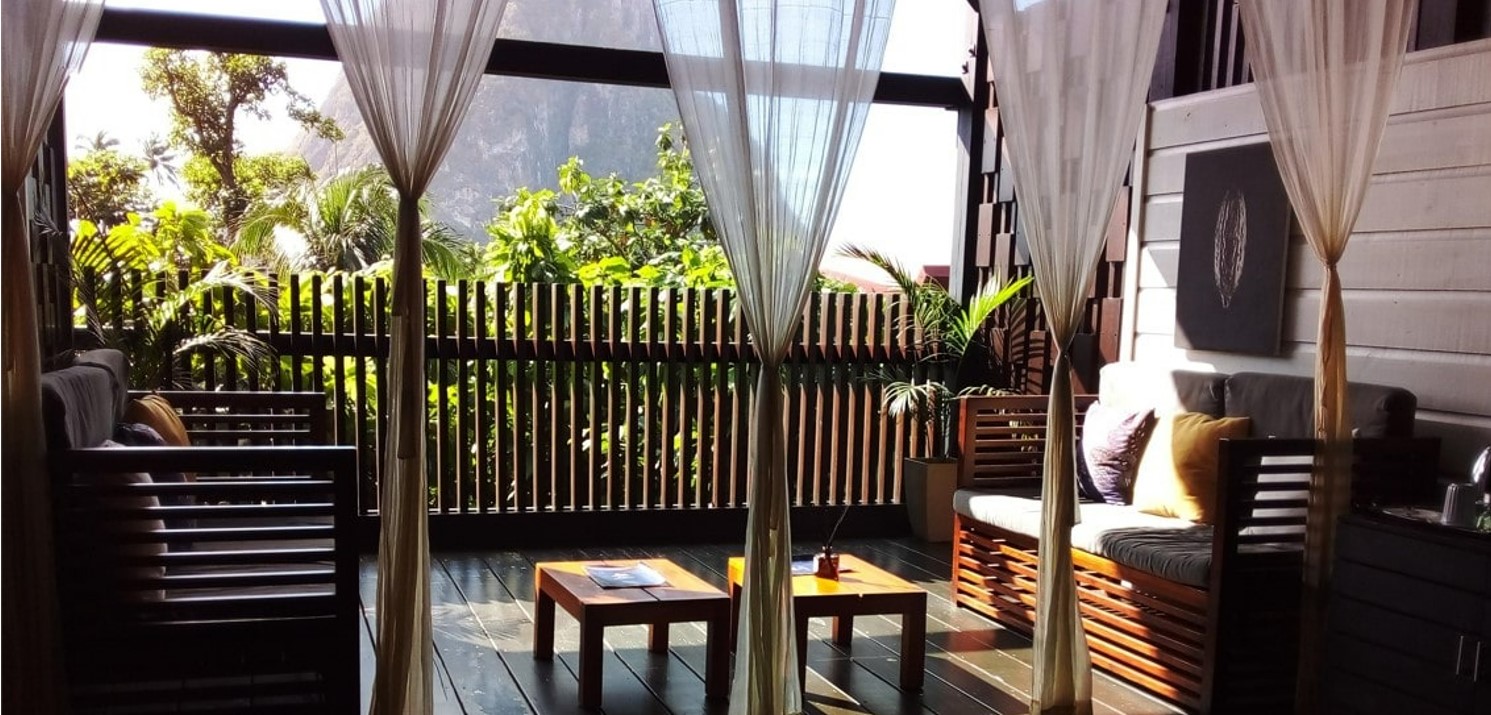 Beauté de Cacao Spa
Our exclusive range of wellness therapies
Packed with antioxidants and vital minerals, the cacao bean has a myriad of uses, and in our rainforest sanctuary we make the most of them – from head to toe! We make our unique lotions and potions on the estate in fresh, small batches.
Our resident massage therapist carries out our treatments in our Beauté de Cacao Spa, which has spectacular views of the iconic Piton and is perfectly positioned to catch the cooling and soothing tropical breezes.
To book a spa treatment or to find out about our other treatments available, please email reservations@hotelchocolat.com.
Treatments
Cacao Massages
A soothing massage tailored to your senses. First, follow your instincts to select which of our 100% Rabot Estate cacao oils is the right one for you: pure cacao, cacao-peppermint, cacao-rose, or cacao-cinnamon. Then, choose the intensity of your massage…
- Light anti-stress back massage 30mins $66*
- Medium Swedish massage 60mins $127*
- Intense deep-tissue sports massage 60mins $137*
Cacao Body Exfoliate & Moisturise
This luxurious double treatment begins with a cacao scrub – made with finely-ground Rabot Estate cacao beans in a virgin coconut oil base – to polish the skin gently yet effectively. Winding down with a harmonious moisturising stage, our therapist will treat your skin with Rabot Beauty Cacao & Almond Body Butter, rich in hydrating ingredients that will leave skin soft, replenished and exotically fragrant.
55mins $121*
Rabot Foot Ritual
While your feet soak in warm water (infused with medicinal tea tree oil), you'll be treated to a light neck and shoulder massage to release any stress and tension. After soaking, a preliminary exfoliation is performed with zesty Rabot Beauty Sugar & Sour Orange Body Scrub, smoothing the skin before a final foot massage using Rabot Beauty Cacao & Almond Bath and Body Oil.
60mins $110*
Rabot Thermal Rejuvenate
An indulgent full-body experience designed to brighten, smooth and soften skin from top to toe. The Rabot Beauty Cacao & Kaolin Clay Thermal Body Mask is inspired by Saint Lucia's famous Sulphur Springs; warming, velvet-smooth and made from mineral-rich kaolin clay, it helps clear clogged pores ready for intensely hydrating Rabot Beauty Cacao & Argan Body Butter.
60mins $100*
Cacao Detox Body Wrap
Purify and balance the skin with this soothing three-step treatment. Starting with a virgin coconut oil and Rabot Estate-grown cacao scrub, we'll lightly exfoliate the skin ready for a clarifying paste made with clay, fresh banana, and cacao. To lock in this nutrient-rich mask, our therapist will wrap you in softened banana leaves, freshly picked from the Rabot Estate. To finish, silky, richly scented Rabot Beauty Cacao & Shea Body Lotion is massaged into the skin, simultaneously hydrating, and releasing any lingering stress or tension.
60mins $127*
Cacao Facial
Our cacao facial plays out over a gentle series of nourishing and relaxing steps: steaming, oatmeal cleansing tailored to your skin type, refreshing with cacao rose water, gentle cacao exfoliation, a fresh local cacao and banana face mask and finally nourishing Rabot Beauty Cacao & Argan Body Butter hydration.
60mins $127*
Rabot Wild Coffee Scrub
Concentrating on the hands, elbows, back, feet and knees, this treatment uses an invigorating Rabot Beauty Coffee Body Scrub – perfected with a pinch of sea salt – to leave skin soft and fragranced with the heady scent of arabica coffee. Indulgently thick Rabot Beauty Cacao & Almond Body Butter comes after, for added softness and moisture.
60mins $100*
Piton Climb Leg Rejuvenate
Concentrating on the leg muscles, this restorative treatment aims to ease the stresses and strains of conquering the Gros Piton. Using our luxurious Rabot Beauty Cacao & Almond Bath and Body Oil, this truly relaxing massage focuses on soothing muscle tension and softening skin from the toes up to the thighs.
30mins $66*
*Prices shown in US dollars, inclusive of government 10% VAT tax. However, a 10% resort fee/service charge will be added to your final bill.