Cacao Spa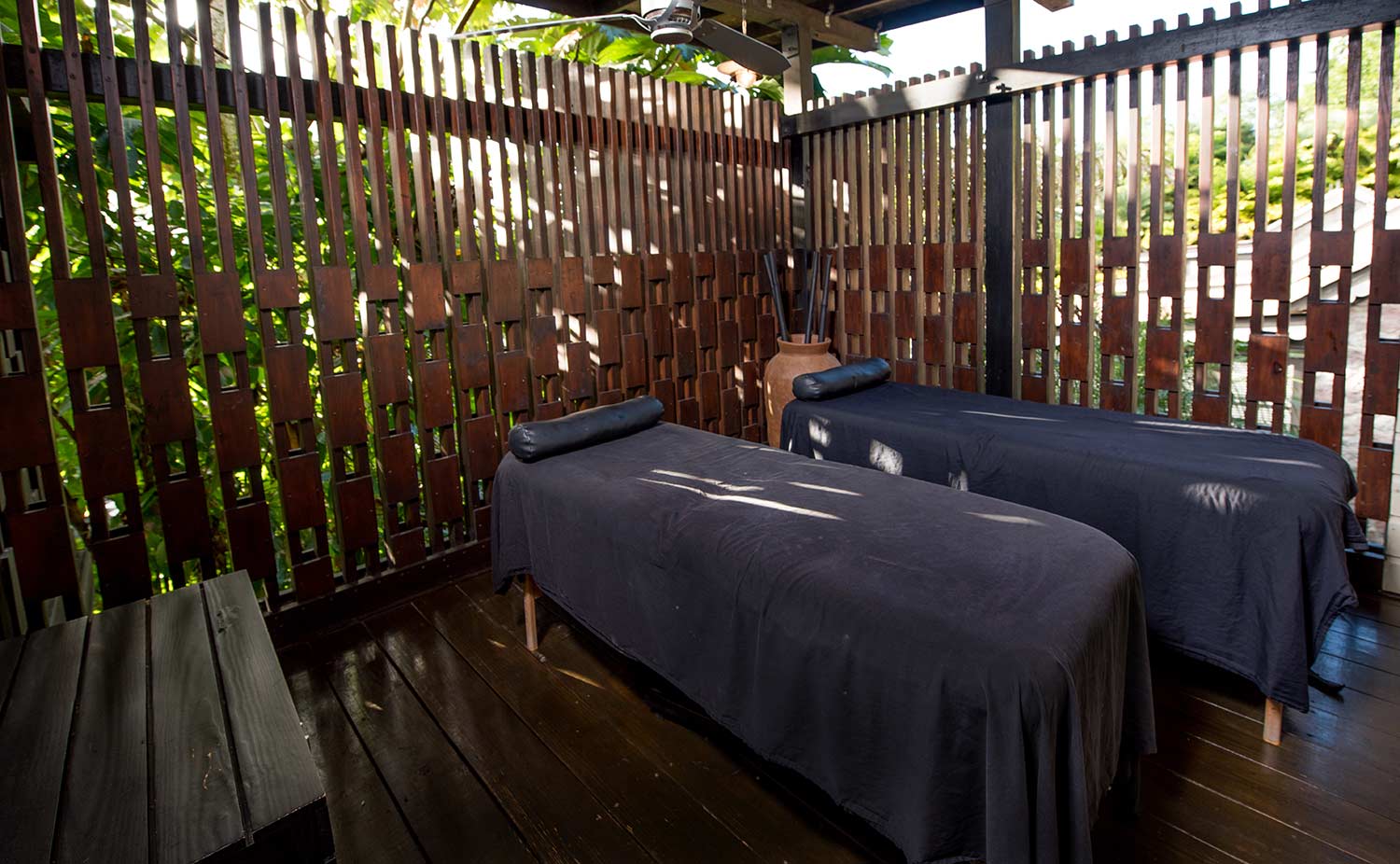 Cacao Spa
Our exclusive range of wellness therapies
Packed with antioxidants and vital minerals, the cacao bean has a myriad of uses, and we're making the most of them – from head to toe! We make our unique lotions and potions on the estate in fresh, small batches.
Our resident massage therapist carries out our treatments in our Cacao Spa, which has spectacular views of the Pitons and are perfectly positioned to catch the cooling and soothing tropical breezes.
Cacao Massages
Just select which of our cacao-oil lotions is the right one for you – pure cacao, cacao-peppermint, cacao-rose, or cacao-nutmeg/cinnamon.
- Light anti-stress back massage 30mins $66*
- Medium Swedish massage 60mins $127*
- Intense deep-tissue sports massage 60mins $127*
Cacao Body Exfoliate & Moisturise
Give your skin an all-over fresh glow and prepare it for the sun-kissed look. First we exfoliate with finely ground estate-grown ccaco beans on a virgin coconut oil base, effectively but gently removing dead skin cells without damage or abrasion to the skin. Next is a deep moisturising stage with silky whipped cacao mousse, where the antioxidant properties of fresh cacao beans soothe and revitalise your skin.
55mins $121*
Cacao Detox Body Wrap
First we prepare your skin with a light exfoliation using finely ground estate-grown cacao beans on a virgin coconut oil base. Then a clay, cacao and fresh banana paste is smothered over your body, and you're wrapped in softened banana leaves as the potion goes to work, drawing impurities from your skin and giving back antioxidants as cocoa butter moisturises. We finish off your experience with a light, hydrating massage with silky whipped cacao mousse. Your skin is left clearer and brighter.
60mins $127*
Cacao Facial
Our anti-ageing facial uses the full power of our cacao to leave your skin tauter and glowing with vitality. The gentle series of relaxing steps includes steaming oatmeal cleansing for your skin type, skin toning with rosemary and apple, gentle cacao exfoliation, a fresh local cacao and banana face mask and then cacao-butter hydration.
60mins $127*
*Prices shown in US dollars, inclusive of government 10% VAT tax. However, a 10% resort fee/service charge will be added to your final bill.