The Rabot Coterie
For lovers of specially sourced and fine-flavour cacao. Enjoy limited-edition cuvées of chocolate and give back to the cacao farming community, too. An annual subscription, ideal for gifting.
A taste of Saint Lucia, home of our cacao estate. The Rabot Coterie includes limited cuvées of chocolate made with island-grown cacao, enrobed fruits, biscuits, macarons and exclusive products - all worth over £75.


A cacao tree will be planted by one of our Island Grower partners on Saint Lucia.


Available as an ongoing annual subscription or as a one-off year-long membership. Limited places available.


A unique gifting opportunity, ideal for those who believe ethical, sustainable cacao farming is essential to the enjoyment of chocolate.


£50 when you subscribe, a saving of £10.
A cacao tree will be planted by one of our Island Grower partners on Saint Lucia.
A rare breed cacao tree planted out in your name each year.
£10 Engaged Ethics donation.
Member updates from Saint Lucia.
Great Chocolate Starts With How it's Grown...
For us, it was simple - to make some of the best chocolate in the world, we had to start at the beginning. We rolled up our sleeves and got stuck in at the roots of the cacao trees on our own farm.

We dug deeply, humbly learning the intricacies of growing. For the first time, with our support and their know-how, our Saint Lucian farmers grew beans that we created single-origin and single-côte chocolate from, winning highly acclaimed global awards in the process.

The more we've learnt about cacao farming over the past ten years, the more it's fuelled our imaginations. First, we created a sustainable model for cacao-growing, then we built our own hotel and cacao cuisine restaurant.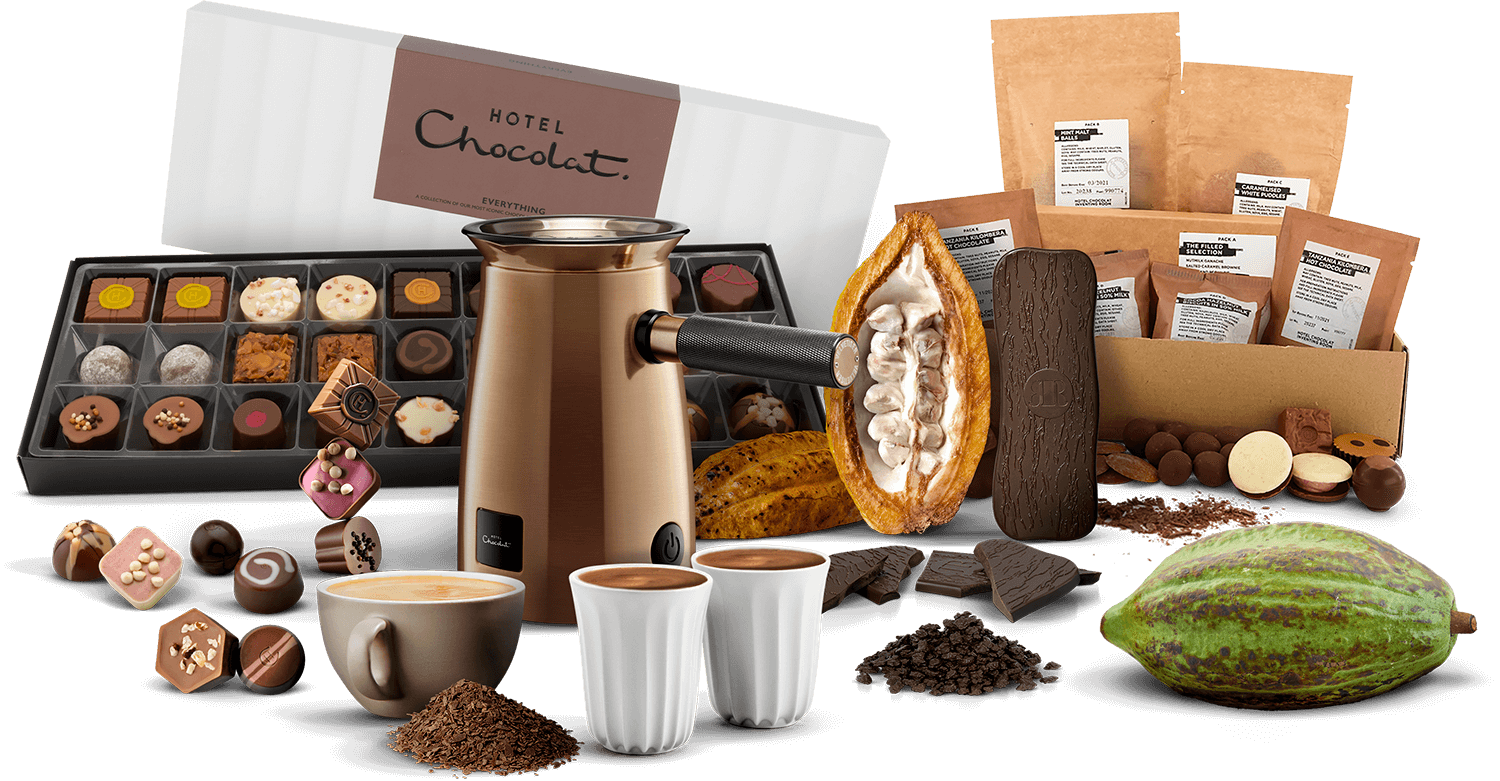 SUBSCRIPTIONS
If the excitement of delicious chocolates, hot chocolate and more arriving every month sounds appealing, you've come to the right place. Choose your favourite Hotel Chocolat treat - from a beloved box of chocolates to surprise collections hand-picked by us - and we'll deliver them to your doorstep, effortlessly.
*To view our Terms & Conditions please click here.