Subscriptions
HAPPINESS, DELIVERED.
If the excitement of delicious chocolates, hot chocolate and more arriving every month sounds appealing, you've come to the right place. Choose your favourite Hotel Chocolat treats and we'll deliver them to your doorstep, effortlessly.

Become your own barista. We'll deliver cafe-quality drinks for you to make at home so you never run out. Subscribe to receive 12 refill boxes and enjoy £50 off your Velvetiser and £75 off your Podster Coffee Machine. Plus, be rewarded with chocolate – for every 10 subscription units you receive, we'll send you a £15 reward voucher to spend on the chocolate treats of your choice!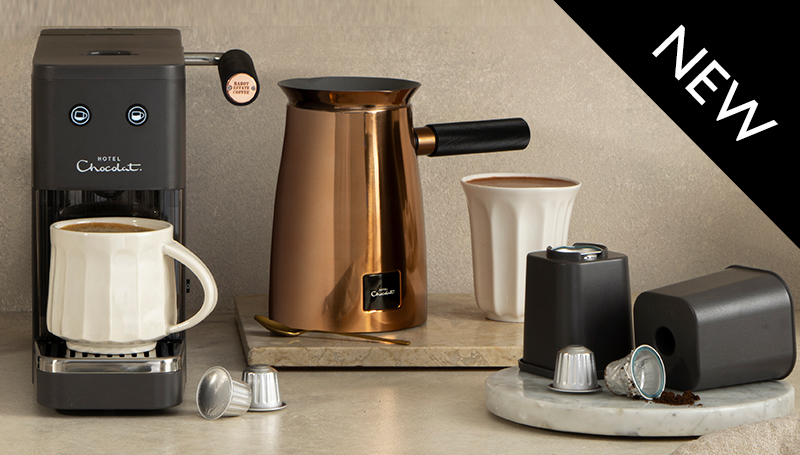 HOME BARISTA MACHINES
Choose one or buy them both! Enjoy £50 off your Velvetiser and £75 off your Podster coffee machine, each with a 12-box refill subscription to your favourite drinking chocolate and/or coffee pods.
Velvetised Drinking Chocolate Refills
Choose from an ever-expanding library of single-serves and pouches – from our mellow Milky 50%, luxurious Salted Caramel and pure, intense Classic 70%.
Happiness delivered to your doorstep … Choose your chocolate subscription – from a box of your favourite chocolates to surprise collections hand-picked by us.
Build-a-Box
Create your own box of your Hotel Chocolat favourites. Simply pick your preferred box format and curate your own, delivered directly to your door.
Monthly Curated Collections
A surprise collection of treats that changes each month. Simply choose your favourite chocolate type and we'll deliver a hand-picked selection of goodies direct to your door.