Rabot Estate Coffee Subscription
Keep your favourite coffee blend flowing. We'll deliver it direct to your door and you'll earn chocolate rewards.
One easy set-up and you'll never miss a cup. Choose your blend, format and frequency and we'll do the rest.


Earn chocolate rewards. You'll receive a chocolate reward voucher to spend online or in-app for every 10 Home Barista subscription items delivered.


Easily swap recipes to try something new, or add multiple boxes or bags to your order to suit all tastes.


Delivered every 1, 2, or 3 months, with free Standard UK Delivery*


Choose from comforting Cashmere; lively Oh, Hello; rich, rounded The One (and The One Decaf) or intense Rocket – in Nespresso®*-compatible capsules or as whole beans.
1. Choose Your Favourite Coffee Pods or Beans
2. Set your Delivery Frequency
3. Checkout & Live Blissfully
Let's get started, what's your flavour?
We're presenting a new family of five coffee blends with The One, our signature serve, at the epicentre. Five is enough because, when done right, high-quality coffee should be distinctive enough that it's simple to find your favourite. Our talent for bringing out the best flavours from our beans is reflected in every blend, and each – as you'd expect from us – just happens to be perfect for pairing with chocolate. Choose from mellow and comforting Cashmere; fruity and lively Oh, Hello; rich and rounded The One (and The One Decaf) or deep and intense Rocket.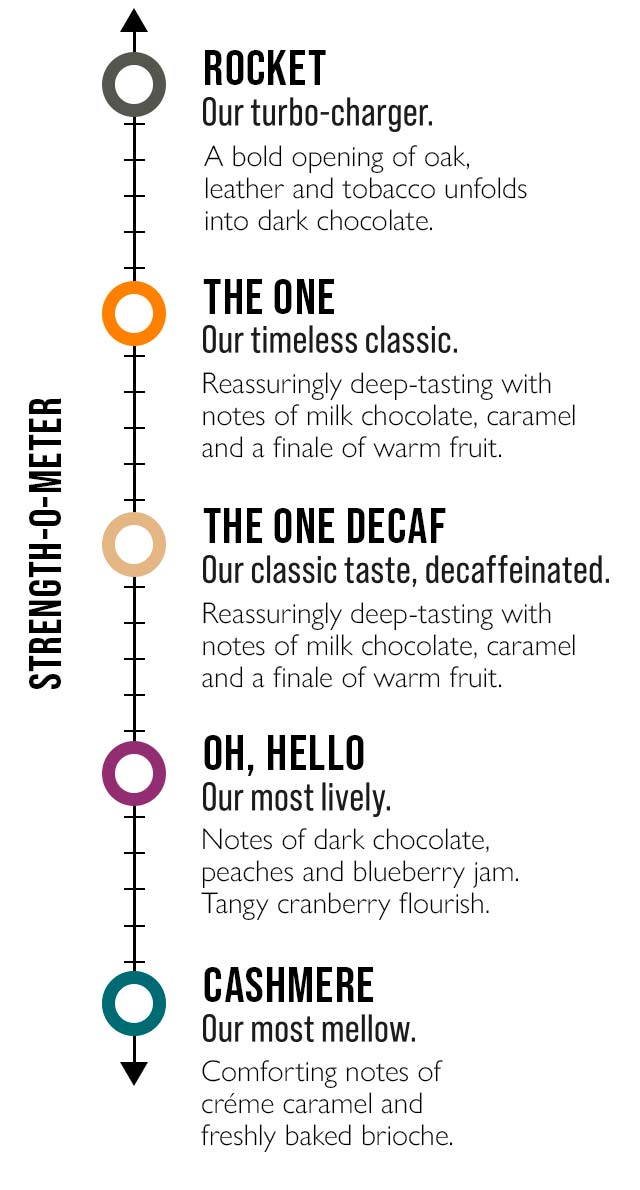 100% Recyclable Coffee Pods
Whole Roasted Coffee Beans
Become a Home Barista
Enjoy the smooth taste of professionally brewed coffee at home. We ensure that all of our coffee is as fresh as possible, so you can savour the aroma of beautifully roasted and blended coffee beans at their best. Place one of our coffee pods in your coffee machine and press the button. Use our Velvetiser to create silky-smooth steamed milk. In moments, you'll have crafted barista-grade coffee - all in your own kitchen.
Transparent sourcing
From farm to cup, we know exactly where our coffee comes from. We source premium beans from all over the world, from family-run farms in India to community projects in Colombia. Our farmers work sustainably, protecting the environment, championing women's rights and safeguarding indigenous habitats. Ethical coffee just tastes better.


SUBSCRIPTIONS
HAPPINESS, DELIVERED.
*To view our Terms & Conditions please click here.