Address
Hotel Chocolat
300 High Street
Lincoln
Lincolnshire
LN2 1AF
United Kingdom
+44 (0) 1522 523285
Get Directions
Opening Times This Week
Opening Times Next Week
Monday 09:30 - 17:30
Tuesday 09:30 - 17:30
Wednesday 09:30 - 17:30
Thursday 09:30 - 17:30
Friday 09:30 - 17:30
Saturday 09:30 - 17:30
Sunday 10:30 - 16:30
About
We are located at the top of the High St next to Waterside Shopping Centre
We are located at the top of the High St just before the historic Stone bow. We are lucky to be situated here looking up the Steep Hill with views of the cathedral and within easy distance of eateries and entertainment and shopping. We offer something for everyone from individual selectors to luxury gifts and of course our jersey whipped ice cream!
Store Manager
Linda Allwood
I have been a manager for Hotel Chocolat for 18 months and love it . Its exciting to discover about chocolate from its origins to how its designed and made . All of my team and I love sharing our knowledge and our favourites with our guests and look forward to helping you find your favourites too.
Manager's Favourite
Lady Marmalade
I love our Lady Marmalade cocktail chocolate. It has a citrus tang of marmalade encased in a dark chocolate shell..we use Sip smith's lemon drizzle gin mmm. I love the story behind it too, one of our chocolatiers went on a date with her boyfriend who bought her a Lady marmalade cocktail, she loved it so much she invented a chocolate replica !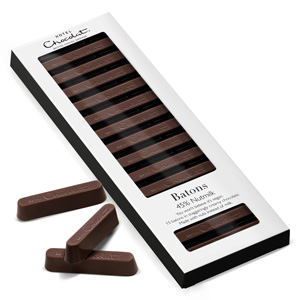 Taste of the Month
Veganuary - Nutmilk
45% Nutmilk. Outrageously creamy. Made with finely milled hazelnuts instead of milk. Five years in the making. Worth every obsessive second.